Summary of Offerings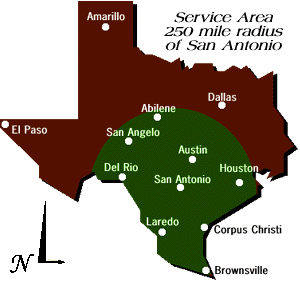 Current Offerings
(click on first line of each summary to see maps, snapshots, price etc.)
Recent Sales
Older Sales
9,305 ACRES located 11 miles north of Brackettville in Kinney County or about 115 miles west of San Antonio. Deer, turkey, dove, quail and hogs. Operating ranch with excellent tree cover and tons of character. Highway frontage. Nine good water wells, electricity, and underground telephone service. Will convey all mineral & water rights & reserve half royalty. $365 per acre intact or in two tracts at $375 & $385 per acre.
6,310 ACRES located in Edwards County about 35 miles southwest of Rocksprings or 130 miles west northwest of San Antonio. Picturesque ranch with semi-rugged terrain, ridges and pretty valleys. Heavy tree cover includes live oak, mesquite and cedar. Excellent population of deer, turkey and birds. Highway frontage and county road through the ranch. Two old houses, 2 wells, pens. Some minerals included. $400 per acre.
6,519 ACRES located 18 miles east of Sanderson in Terrell County. An intriguing ranch with the deepest explored cave in the state of Texas. Easy access with 1.77 miles of highway frontage. Electricity and two good water wells. Whitetail deer and blue quail country. Will convey 1/2 of all minerals owned along with two sections of mineral classified land. Cash or easy terms by Seller. $95 per acre
5,120 ACRES 10 miles south of Rocksprings. A beautiful Edwards Plateau ranch, half rolling live oak country and the other half is four-wheel drive country. Has historic old ranch headquarters, four excellent water wells, low fenced, good road system, large neighbors, public road access. Outstanding exotic and native wildlife population. Convey all minerals and 50% of royalty owned. $995 per acre.
2,634 ACRES located 20 miles northeast of Sonora in Sutton and Schleicher Counties. Part of an old pioneer family ranch located in a quality area. Original headquarters with old house, barns and pens. Paved road frontage. Three good water wells, trophy whitetail deer, turkey, birds, and large live oak trees. Will convey some participating royalty. Offered intact at $390 per acre or in three tracts starting at $410 per acre.
2,564 ACRES located in McMullen County about 65 miles south of San Antonio near Tilden. Showplace with 9,483 sq ft house, 12,000 sq ft hanger, airstrip, high game proof fence, Frio River frontage, 9 deep lakes, 3 water wells. Boone & Crockett deer, quail, dove, turkey, fish and hogs. Cash or terms with excellent financing by Seller: $916 per acre.
2,046 ACRES located in Edwards County 30 miles southwest of Rocksprings or about 135 miles west northwest of San Antonio. A scenic end of the road ranch with deer, turkey, dove and quail. Excellent tree cover includes live oak, shin oak, mesquite, cedar and persimmon. Three good water wells with electric pumps. Small new cabin needs some finish work. Deer feeders & blinds included. $325 per acre.
1,792 ACRES located in Bandera County about 35 miles northwest of San Antonio near Bandera. Four miles of beautiful Medina River frontage, comfortable 6,700 sq. ft. rock hdq house with 8 bedrooms and 8 bathrooms, pool, tennis court, and barns. Scenic Hill Country land overrun with deer, turkey, birds, wildlife and a river full of fish. Convey all minerals. $1,800 per acre.
1,520 ACRES located 42 miles south southwest of downtown San Antonio in Atascosa County A fine South Texas ranch with extremely heavy tree cover and a good population of white tail deer, turkey, quail and hogs. Three miles of hwy frontage and a good carrizo sand water well. Two small lakes and locations for more. All minerals and 50% of Seller's producing royalty included. $875 per acre.
1,438 ACRES located 40 miles south of San Antonio in Frio County. Outstanding irrigated stock farm with great potential for development into a first class bird hunting and recreation ranch. Includes 2 self propelled overhead pivot sprinklers, a 1,500 g.p.m. Carrizo sand irrigation well, 2 other wells and 10 earthen tanks/lakes. Two houses, excellent welded steel pens and barns. Outstanding quail, dove and deer hunting. Convey half of minerals. $850 per acre.
1,328 ACRES located 5 miles northwest of Rocksprings in Edwards County or about 116 miles northwest of San Antonio.. A highly improved turn-key hunting-ranching-recreation ranch with 3 good houses, a big barn and 2 water wells. Gently rolling land with thousands of live oak trees. Loaded with deer, turkey and blackbuck antelope. Ready to use. Paved road front. Low fenced. Convey all minerals. Cash or terms. $795 per acre.
559 ACRES located in McCulloch County about 110 miles northwest of Austin. Hill Country retreat with a 6 bedroom, 3 bathroom headquarters complex, 9 fishing tank/lakes, barns, pens, corrals and 3,300 foot sod landing strip. Paved road frontage. Great fishing and outstanding population of deer, turkey, quail and dove. Convey all minerals and 50% royalty. Cash or easy terms. $895 per acre.
500 ACRES located in Medina County 33 miles west of San Antonio. An all purpose ranch with an 1850s restored German style rock house, 55 acre irrigated pecan grove, 88 acres of irrigated hay fields, 3 lakes, deer, turkey, quail and doves. A beautiful weekend retreat with most of the basic hard work already completed. Minerals intact and convey all. Immediate possession. $1,500 per acre.
489 ACRES located on the south edge of San Antonio two miles south of Loop 410. Paved road frontage, one mile of frontage on a live creek, two earthen lakes. Includes 405 acres of prime farm land that can be irrigated. Ideally suited for residential/commercial development, golf course, horse/cattle showplace, mobile home park, farming or excavation and sale of topsoil. Will convey all minerals owned. $2,000 per acre.
408 ACRES located in Blanco County between Johnson City and Fredericksburg in heart of the Hill Country about 45 miles west of Austin. Old German family ranch. Both sides of crystal clear spring fed creek. First time on the market. Modern weekend cabin, cattle pens, 2 good water wells. Soil suitable for small fields. Low fenced, large neighbors. Convey all minerals. Owner terms. $1,850 per acre.
333 ACRES located in Uvalde County near Garner State Park. A beautiful Hill Country Hunting-Ranching-Recreation Ranch with about one-half mile of pretty crystal clear spring fed rock bottom creek meandering through the ranch. Older 2 BR 1 bath hdq house restored to comfortable condition, barns, pens, corrals, water wells and 3 small oat fields. Deer, turkey, exotics and hogs. New deer blinds and solar powered feeders included. Minerals also. $1,350 per acre.
300 ACRE Feet of Edwards Aquifer Water Rights These water rights are defined as unrestricted irrigation underground water rights permitted under the jurisdiction of the Edwards Aquifer Authority (EAA). They are fully permitted, filed of record and transferable to any user/entity needing to pump water out of the Edwards Aquifer. Offering price is $2,100 per acre foot.
147.37 ACRES located in LaSalle County about 100 miles south southwest of San Antonio or 18 miles southeast of Cotulla. South Texas hunting ranch in heart of "Big Buck County". Outstanding tree and brush cover, nice weekend cabin, stock pond, electricity, paved road frontage on two sides, low fenced all sides. Good deer herd, hogs, quail, dove and miscellaneous crittes. A fine family recreation ranch. Price reduced from $2,300.00 to $2,100.00 per acre for a total of $309,447.00.
11.03 ACRES located in Bell County Located 3 miles east southeast of Oenaville in the Bean Hill community; or 9 miles east of Temple; or 14 miles west of Rosebud; or 16 miles east northeast of Belton, which is the county seat; or 30 miles south of Waco; or 65 miles north northeast of Austin; or 120 miles south of Dallas; or 150 miles northwest of Houston. All distances are measured straight-line "as the crow flies. $4,500.00 per acre.